I am going to start off by acknowledging that you may be able to get cheaper digital frames BUT I can tell you that you will not be able to get a
better digital frame.
I truly think
Ceiva Digital Frames
are the best. I know that it is a pretty bold statement I just made but these frames are different..they are not just pretty to look at they can interact with each other! Imagine being able to send pictures directly to grandma and grandpa's house who live in another state...directly to their frame! You can send photos from your camera, you can even get the weather and news updates daily on your frame. This is truly the next level of digital frames.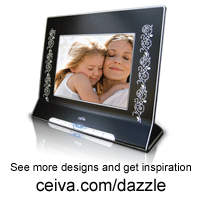 I can tell you that my husband fell in love immediately. As he was setting up the
Ceiva frame
I could hear his excitement...he kept calling me over to tell me how cool it was. I thought it was a really nice but did not fall in
LOVE
until I woke up one morning and my daughter was giggling while she was looking at the frame. The pictures of her Make-A-Wish trip were flipping through and she was exclaiming with giggles, "Princess Savannah and Princess Belle", "Princess Savannah and Cinderella", "Princess Savannah and...."...it was beyond precious. My hubby keeps the pictures changing in the frame we have set up in the bedroom for every morning she now walks in and wants to look at her pictures...I think my 3 year old is the Biggest Fan!
The set up is easy to do. The thing that we enjoy is that we get different pictures sent to our frame daily...seriously, the frame can pull up to 60 pictures every day so you can keep a continuous stream of new photos coming through or you can keep your faves! You don't even need the internet...the frames can be connected over a phone line! I know I have used a lot of exclamation marks in this review and it is simply because I truly love our frame. I could go on and on about all of the features but I think it is best if I just tell you to visit them at
www.Ceiva.com.
You may have noticed my sidebar featuring Ceiva Digital Frames under Blogmania....that is because during Blogmania on September 15-16th you can enter for a chance to win your own Ceiva Digital Frame!!!!!!!!!
I KNOW MORE EXCLAMATION MARKS!!!! You will have a change to win a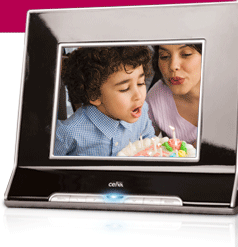 CEIVA Pro 80 with a one-year PicturePlan, MSRP is $179.99
Disclosure: I received the frames and pictureplan free of charge for the purpose of the review. I was not compensated in any other form. The opinions I have expressed are my own.